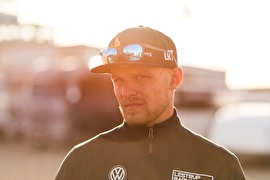 Karlskoga, race five in the calendar unfortunately Dennis had to pass due to economical reasons.

- Unfortunately I have to watch this race from the side. Cant say if feels good when we've just got some extra speed in the car and the team is still working with the car to find that last bit. Even worse is that Karlskoga is a track that I'm pretty good at, to be honest. But its just to suck it up and work on being back for the last two races of the year at Anderstorp and Mantorp in September, Dennis says.

As Strandberg had to pass this race Robin Fredriksson stepped in to race this weekend and Dennis was there to show his support.
- I will be there to show the team the support they've showed me all year and also to coach Mini Me in Ginetta GT5 Charlene so it will be a full weekend, Dennis added.
The team and Dennis will work hard to be back at Anderstorp 2-3 Sept.