Tough weekend at Falkenberg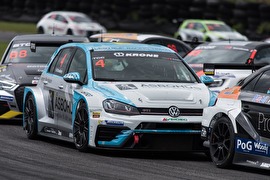 A sixth place and two DNF do not tell the whole story of the Lestrup Racing team's Dennis Strandberg's weekend in Falkenberg. A weekend filled with a lot of work for the team that wasn't even rewarded with a sixth place and best lap time in today's final race.
Race 1:
After yesterday's qualifying Dennis qualifying as eight, nine and nine, the team made big changes on the car before the race day and after the morning's warm-up, expectations were high on a good racing day in Falkenberg. Unfortunately, a start crash was set where the team became an innocent victim to the hopes already in race 1. Andreas Ahlberg didn't get away in the start and Dennis, who started just behind, could not completely avoid Ahlberg's stationary car. The result was a demolished front carriage.
Race 2:
The team then had a fight against the clock to get both cars ready for race 2, which was a good luck. Dennis was good at first and drove to a fifth place when he suffered a puncture that led to new injuries and another DNF (did not finish). Again it became a battle against the clock to get the car ready for today's final race.
Race 3:
A race that became a messy story with several incidents. Dennis got up through the field up to 6th but got a drive-through for odd driving in connection with a pass on Tobias Brink. Down in 12th place he went back to a sixth place with the best lap times on the purchase. Across the finish line, it was a sixth place but also a 30 second time penalty for hard driving.
"It was a bit buffy and stubborn at the start, and our race went up and down this weekend," says Dennis. There is not much to say about the drive-through I got, but that we could get back to a sixth place shows that the car was fast today.
Dennis sums up a weekend as a result, not what was expected, but he thinks the team took great steps forward this weekend.
"It was nice to at least be able to finish with a good result. It is sad that we were in the start crash but the team did a terrific job that put the car back in order. It feels a bit frustrating when we found changes after the qualification yesterday which made the car a lot faster. Now, at least we could show it in the last race. We take a new look and come back stronger, smarter and faster, Dennis concludes.
After the third race of the day, team manager Fredrik Lestrup pours out. It became an intense race day in Falkenberg, filled with a lot of work between the races and Fredrik thinks the team did a great job.
"Of course we are not happy with the results, but the way we take care of this weekend we will be proud of," says Fredrik. We took great steps forward yesterday with the car and looked forward to the race today. Instead, we got a new challenge with great repercussions on both cars after the start crash in the first race and the way the whole team thought it was impressive. It is nice that we were at least in the final race and with a sixth place and best lap time, we showed that we had the speed of significantly higher positions today.