Dennis makes a one off in BTCC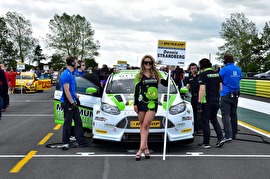 Lestrup Racing Team driver Dennis Strandberg makes a last minute break in the British standard car championship BTCC this weekend. He has had the opportunity to make a substitute for Team Parker / Maximum Motorsport in the weekend's competitions at Croft and Fredrik Lestrup did not hesitate to lend Dennis this weekend.
"It is obviously a nice opportunity for Dennis to compete further which is always good as driver and it also favors us as a team," says Fredrik. We do not want to stand in the way of Dennis, and now that it appeared at the last minute there was no doubt from our side. We wish Dennis all the best in the weekend and look forward to returning to STCC at Solvalla.
Dennis Strandberg looks forward to his debut at the BTCC after last year's test, which is his only experience of BTCC.
"Of course it will be fun to compete and it's very cool by Fredrik Lestrup to let me take this last minute opportunity," said Dennis. It's always good with extra experience and I'm looking forward to the weekend and the next weekend will be back at Lestrup Racing Team and the STCC race at Solvalla.