Tough weekend for Strandberg and Lestrup Racing Team in Finland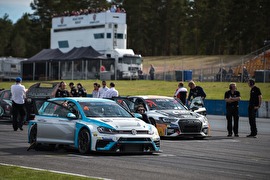 Strong rides and scoring point in all three races from Dennis Strandberg were a heartfelt consolation for the Lestrup Racing Team who did not figure out what one wanted for the STCC weekend in Finland.
For Dennis Strandberg, the eleventh place in the qualifier put the tone for the race and he had to fight through the middle field.
A 10th, one eighth and one seventh place and second best time in the second race became his result of the weekend in Finland.
"Well, I've made a mistake and I'm in trouble for the race," Dennis said. We have the speed but starting 11th it is difficult to make the big results and I got to pay for the rest of the weekend. I felt I was faster but it took time to pass that many. It has been fun races, I have been fighting and it is nice to end the day with a good race.
Fredrik Lestrup is also not happy with the weekend in Finland and notes that there is speed but that the start of the season has not really gone the way.
- I do not really want to use the phrase 'post out' but it's how it feels right now, says Fredrik. We've got the speed again but after the qualification we got to chase all weekend and it's tough. Dennis did three very good races and drove up but it is difficult when you have to start down in the midfield. This was a good course for VW Golf and we have the pace in the cars, now we have to get a dividend for it.